Kale shakes and white satin
Feb 19, 2012
Local act Swahili is starting the evening on Tuesday night at the Grimes show. They just pressed their first LP to vinyl through Seattle-based label Translinguistic Other, and are in the process of recording their second full-length. Synthesist-singer Joshua fills us in on the band's recording process, influences and veggies:
Knights in White Satin by Giorgio Moroder. Discovering Giorgio's synth disco sound has been a pleasure. His wall of arpeggiated synths just murder on the dance ?oor. His work with Donna Summers has been a major in?uence lately. On this cover of Knights in White Satin he manages to be creepy and sexy at the same time. I love how his sound de?ned a whole genre of electronic music, disco has always had such a horrible rep and has always been thought of as an artistic low point in pop music. Not so. Giorgio's synth work is unparalleled in many ways. As is his mustache.
Love is the Drug (long version) by Grace Jones off Private Life: The Compass Point sessions. Sly and Robbie's work with Grace Jones in the early 80's is some of the stuff I listen to the most over the years. It's funny how you never know what record might stay with you for years and years. Never expected that when I bought this, I would have to have it with me everywhere I go. The long versions are full on dub outs that sound like nothing else. Super crisp dubs over Roxy Music and Joy Division songs with Grace's cadence and the Sly and Robbie dropped bass. Highly recommended. We love.

Sinn Sisamouth. Sinn was one of the most popular Cambodian singer songwriters of pre Pol Pot Cambodia. They called him the "King of Khmer", he was murdered in the killing ?elds in 1975. His music combines traditional Khmer folk songs with American in?uences like electronic keys and fuzzy guitars brought over by our troops during the war in Vietnam. While in Cambodia last year, Jon and I tracked down loads of Khmer music and it's been a blast incorporating our ?eld recordings and traditional southeast Asian sounds into a dance oriented record.

Earthquake Weather by Beck, off the album Guero. When painting with sounds, I always turn to Beck as a guru of the avant-pop. Beck is one of the only guys we grew up with that has never let us down. Everyone of his records corner several styles of late 20th century pop beautifully. Guero got a bad rep somehow, but man is it good. It is an ambitious and long record and in it is some of the most intelligent pop songs written in the last ten years. Earthquake Weather is the type of jam only he could pull off, the mix is tight, full of clavs and 200A's and is littered with sexy noise collaging. After Mutations, Beck found a way to never sound dated while doing his thing which will always probably be associated with the 90's. Perhaps by the end of his career, he will be seen as our generation's true heir to Bowie.

Kale shakes. Half a cucumber, two stalks of kale, half a pear, half a kiwi, blend with water. Drink ?rst thing in the morning. Awesome Technology!

Dancer by Gino Soccio, off the Album Outliner. Gino's disco sound on Dancer has the tight mix of Gorgio's synths but with greater precision when dealing with the different elements of a live band. The result is a wonderfully long track that inspires dance, plus its driven for nearly nine minutes by one of the all time funkiest piano riffs.
Wouldn't it be Good by Nik Kershaw. I've had this song playing and it manages to inspire genuine hatred from even the kindest of people. It really is bad. But when creating synthesizer drenched music, I ?nd it helpful to hunt out bad Pop for instant perspective and remember what not to to do in the studio.
Posted by V
LET THERE BE GRIMES
Feb 16, 2012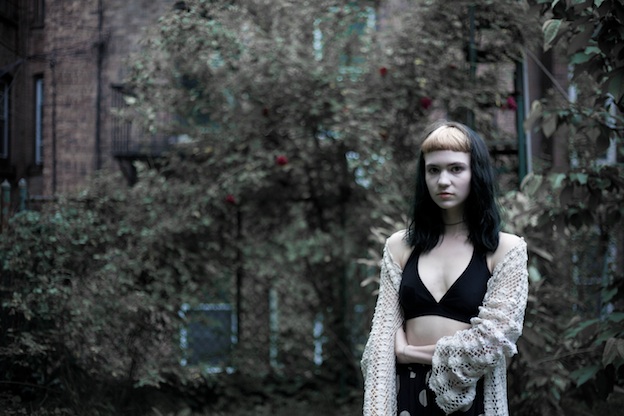 photo by Tommy Chase Lucas via Pitchfork
Montreal electropop wunderkind Claire Boucher, who performs as Grimes has been blowing up recently, especially since she signed to indie stalwart 4AD earlier this year to release her stunning upcoming LP, Visions. She stopped over at SF guerilla gig staple THE SUB back in May to perform the beautiful lead single "Genesis" for a Yours Truly session, which you can stream below. She looks pretty stunning, doesn't she? Well, both V and Vogue seem to think so too: Pitchfork reports in a brand new interview with Boucher that she will feature in photoshoots in BOTH magazines. Holy shit, right? And on top of all that excitement, Grimes was just added to Pitchfork's official SXSW showcase, headlined by Fiona Apple. The powers that be have already caught on to the fact that there's something special about Grimes's magical take on electronic-based performance pop. We promise, you really don't want to miss this show. Judging by the way things are going for Grimes, you won't get a chance to see her in such an intimate setting next time around. GRIMES PLAYS HOLOCENE ON TUESDAY THE 21st (w/ BORN GOLD & SWAHILI). THERE ARE STILL A HANDFUL OF PRESALE TIX AVAILABLE (get em here).


Yourstru.ly presents: Grimes "Genesis" from Yours Truly on Vimeo.
UPDATE (2/17): Pitchfork just awarded Visions, which comes out on the day of the show on massive indie label 4AD (and Canadian experimental label Arbutus in Canada), the "Best New Music" tag with a rating of 8.5/10. Read the review HERE.
Posted by MA
Gaycation's Guest!
Feb 15, 2012
Saturday hails the sixth year and counting of one of Portland's finest queer dance institutions, GAYCATION, and they have a special guest that'll help bring the house down for the special event.
DJ Lauren Flax has been a powerhouse producer in the last several years, working with the other dance phenoms like Le Tigre, Fischerspooner and Sia, and more recently, has performed as part of the trip-hop dark duo CREEP.
The Brooklyn-based pair have ripped asunder dancefloors here and across the pond with their brand of sleek electro-dance haze. They've teamed up with a myriad of artists that help round out different elements of their sound – from the bumping dance beats of fellow New Yorkers Nina Sky, to the lush breathiness of Kazu Makino of Blonde Redhead, and the airy restraint of Romy Madley-Croft of the xx (the latter collaboration is below, in the ghostly track "Days").
Flax herself is fresh off of a big appearance with the Scissor Sisters at the One Step Beyond series at the American Museum of Natural History, so we expect her lasers are set to stun for Saturday's festivities. Here's a great mix by the woman herself, featuring selections from James Blake, How to Dress Well, Burial and more:
Posted by V
A few words with RAC
Feb 14, 2012


We sat down with Andre Allen Anjos of RAC (Remix Artist Collective) to answer a few questions about Thursday's "RAC Presents!" party. Andre and his DJ cohort Karl Kling make up the duo known as RAC DJs, and they've started curating a monthly dance party with us to play their own remixes and other favorite tracks alongside carefully selected guest DJs from near and far! We're feeling very blessed to be working with such talented and reputable producers on a monthly basis. Here's a primer from Andre to whet your appetite for the debut edition:
- We're really excited about your new monthly party with us! Can you tell us a little bit about what people can expect at these nights? What inspired you to start a monthly?
We're extremely excited as well. The main inspiration has definitely been our travels. We saw all kinds of interesting "scenes" and music that we just loved. Some of these artists have already played Portland, but we felt that there wasn't a distinct outlet for it. We figured we'd try building out own little scene here in our favorite city. The one thing that people can expect is to hear some really interesting music, whether it be NYC house or Italian disco. We're not sticking to any specific genre, just good dance music.
- What are some of your favorite tracks / artists / subgenres right now? Anything in particular that we can expect to hear a lot of during your set on Thursday?
I'm personally kinda obsessed with the latest Todd Terje track -
Inspector Norse
. Mainly for nerdy synthesizer reasons, but it's a killer track. We always improvise the set, so it tends to be tailored to the space and people. Most likely a lot of disco influenced material.
- Tell us about Thursday's guests, Jacques Renault and American Girls. How will they be rounding out the party?
We met Jacques in Mexico last year. It was one our favorite trips and we barely slept. When throwing around ideas for this party we knew very early on that we wanted Jacques to be the first one. He's one of the best DJ's I've ever seen and has impeccable taste. American Girls had a residency at a small place near our house in the NE. This sounds incredibly lame, but they were playing some of our tunes and that got us talking. They are very good DJ's with some great local following. It seemed like a perfect fit.
- You two have remixed a lot of very high-profile artists, like Radiohead, The Shins, and more. What have been some of your favorite remixes to do in the past, and why?
I have different favorite remixes at different times. This is because they mean different things at certain points in my life. For ex: The shins was the first remix I did. It was a huge milestone for me. By the time I'm done working on something, I kinda can't listen to it anymore. It takes a few months for something to become fresh again. I do take a lot of pride in working with artists before they break. Bands like Ra Ra Riot, Tokyo Police Club. I once passed on a Vampire Weekend remix. Worst decision ever.
- Any words of advice to DJs out there on the subtle art of a good remix?
Rule #1 and most important rule of all: Respect the song. Don't ruin what makes it good. Change the details but keep it true to the original.
Posted by GA
Post Valentine's Party Time!
Feb 12, 2012
After the candy hearts have hurt your stomachs, we're asking you to venture out to check out these sweethearts on Wednesday at Holocene - brother team Ryan and Jeffrey Burian - California transplants that have managed to transport more than their human forms to Portland. Formerly under the banner of Real Diamond, the pair of Beisbol performs breezy, uplifting blend of tropical pop and jangly rock that serves as a bed to their joyus harmonies. Hot on the heels of the digital release of their EP, the boys will release two tracks on 7" vinyl this week for spring- and summer-eager fans ready to bask in sun and toe tap to their tunes. You can catch dispatches from their recording session (during which they also are preparing a full-length release Lo-Fi Cocaine) here - see the boys hard at work (in their jammy-jams), mugging for the camera and eating funfetti cake.
The whole evening serves up a smorgasbord of upbeat, sun-loving music by way of Beisbol, the veritable party twosome Serious Business, the polyrhythmic pop of Palmas, and the always amazing DJ E*Rock..for free!
And for some further investigation on the Beisbol boys, check out their facebook page for their brand of beachcombing song vibes.
Posted by V
DECIMATE ME WHEN MY SON EATS SUN
Feb 10, 2012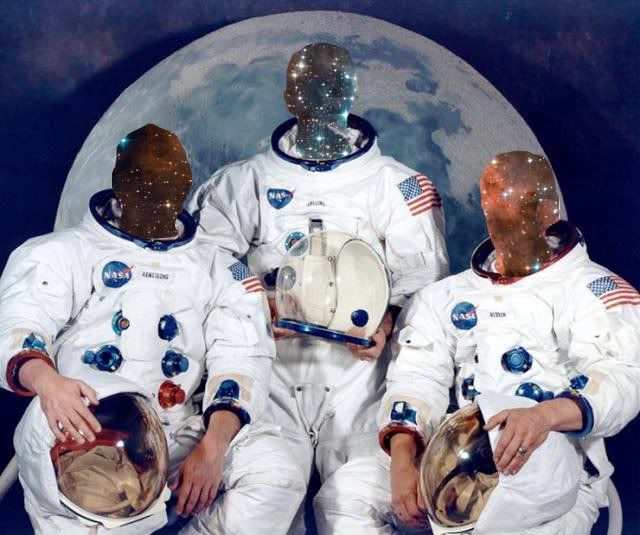 BORN GOLD (formerly known as Gobble Gobble) is not so much a band as it is an experience. Frontman and figurehead Cecil Frena often sports costume fairy wings and '80s style tennis short shorts. The rest of the band are equally supporting musicians and theatrical interpreters. Wearing christmas lights around their sweaty torsos, pink tutus, and classic chucks, they serve as a link between audience and band often missing in live music, especially Born Gold's style of glitchy electropop (in which acoustic/electric instruments are traded for a variety of effect pedals, touch-responsive loop stations, and manipulated children's toys). Sometimes they'll crouch down and slither through the audience with wooden shakers like a couple of rattlesnakes; sometimes they'll put on plastic helmets and rhythmically exchange blows with oversized plastic shovels. Sometimes they'll bang furiously upon a plastic trash can or a drum pad. But they are always moving, triggering sounds or visual effects. Behind, in front of, and around Frena, they very literally bring the performance to life, shivering and quivering as if the music has a body that can't stand still.

(Have you heard of and/or seen hot-hyped band Purity Ring this past year? It shouldn't surprise you that one half of Purity Ring, Corin Roddick, used to be one of Cecil Frena's theatrical glitchwizards.)

The brilliance of Born Gold is hard to pin down. Though Frena's songs are composed principally of buzzsaw synth loops, sound manipulation, and pulsing rave beats, they're also outstanding examples of pop songwriting, almost to a formulaic (and therefore ingenious) t: intro melody, verse, chorus, verse, chorus, breakdown/bridge, rousing double chorus. And to cap the sonics off, Frena's a remarkably gifted singer capable of transitioning seamlessly from a nearly breathy delivery to a hellish scream to a bold mountaintop cry. Oh, and the lyrics are pretty insane too, if you can decipher them at all. For all the complicated sonic twists and turns, the lyrics have a sense of straightforwardness and unity, even if they sometimes sound like a lost e.e. cummings poem ("Eat sun, son/Never felt so room but your womb is a mountaintop").

Born Gold is not just electronic dance pop: it's live musical drama, a kind of glitchy tragicomedy with the most euphoric of endings.

Make sure you check out Born Gold at Holocene on Tuesday the 21st opening for Grimes (buy tix in advance, I will not be surprised if this show sells out!). I cannot stress enough that this is a performance you will not want to miss.
Below you can stream their entire "selected singles compilation" BODYSONGS. Definite track highlights are tracks 1-5, 6, 7-9, and 10. Also check out some cool press they got from ol' p4k here (and, back when they were still known as Gobble Gobble, here & here).
Bodysongs LP MP3s by Born Gold
Posted by MA
← more recent entries
older entries →