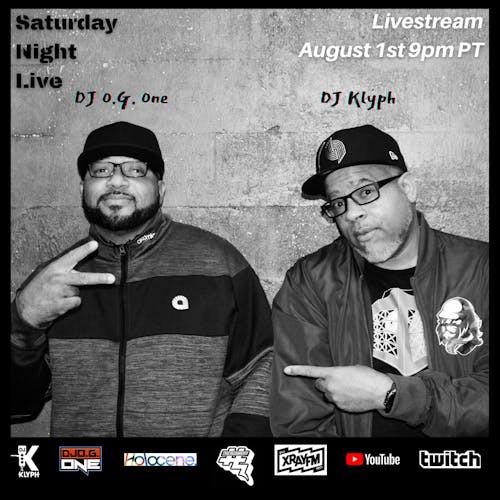 DJs O.G. One and Klyph bring you a special livestream edition of Saturday Night Live, streaming live from Holocene's Twitch and YouTube!
DJs Klyph (Welcome to the Neighborhood on XRAY.fm) and O.G. One (In These Streetz on XRAY.fm and the official DJ for the Portland Trailblazers) playing new music and classic hip-hop, funk and soul!
Stream will happen on our YouTube and Twitch accounts starting at 9pm.
Subscribe now!:
Youtube: https://bit.ly/YoutubeHolocenePortland
Twitch: https://www.twitch.tv/holoceneportland/
Tips/Donations are encouraged and appreciated. All proceeds will be split between Holocene and the night's DJs.
Send a donation here on Eventbrite, or use one of the following methods:
Cash app: $holoceneportland
Venmo: @holoceneportland
PayPal: contact@holocene.org
Venue Information: