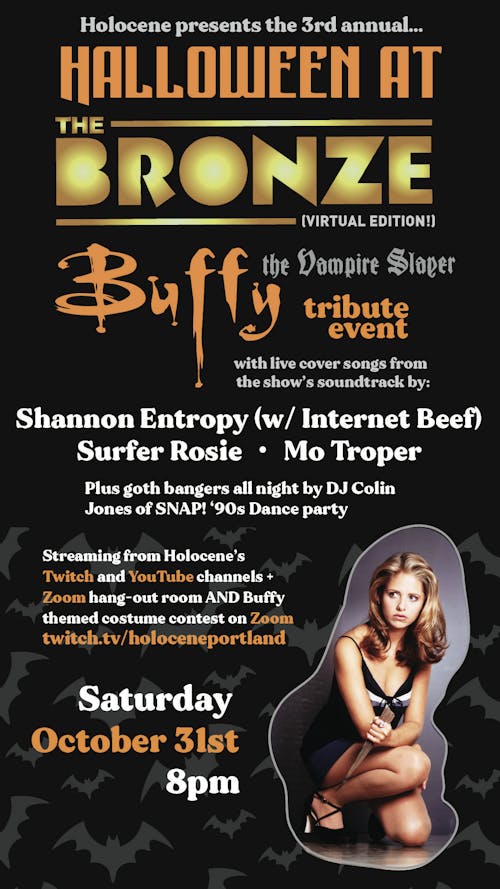 Halloween at the Bronze: Buffy the Vampire Slayer VIRTUAL Tribute Event
Calling all slayers!: It's a live streamed Buffy the Vampire Slayer tribute event on Halloween, with cover song sets and more!
We've had so much fun with you all for our last two years of Buffy the Vampire Slayer themed Halloween parties, so we're bringing it back this year as a virtual event!
Get ready to stream The Bronze into your living room on Halloween night, with cover song sets from the show's soundtrack by Shannon Entropy (with Internet Beef), Surfer Rosie and Mo Troper (solo) , plus goth bangers all night per usual from DJ Colin Jones (of SNAP '90s party) !
Get your Buffy themed costume ready for the Zoom costume contest + hangout room!
And call your fellow Buffy stans in other cities, because this year the party is streaming worldwide! 🎃 🧛‍♀️ #halloweenatthebronze
BANDS AND DJ SETS VIA TWITCH OR YOUTUBE:
Entertainment starts at 8pm pacific time. Subscribe now!:
Twitch: twitch.tv/holoceneportland
YouTube: https://bit.ly/YoutubeHolocenePortland
ZOOM HANGOUT + COSTUME CONTEST ROOM!:
https://us02web.zoom.us/j/84599684375
Zoom meeting is open all night to mingle with your fellow fans, and costume contest happens there at 10:30pm Pacific! All are welcome to join the costume contest night of show with a Buffy universe costume!
Audio will be muted for attendees on Zoom, but you'll be able to text chat and dance together. We recommend pulling up the Twitch or YouTube as a window side by side with the Zoom for best experience!
DONATION BASED TICKETS:
Donations encouraged and appreciated, with all donations split brtween the night's artists and Holocene staff. You can make a donation at this Eventbrite link in advance, or during the stream on one of the following channels:
Venmo: @holoceneportland
Cash App: $holoceneportland
PayPal contact@holocene.org
Venue Information: