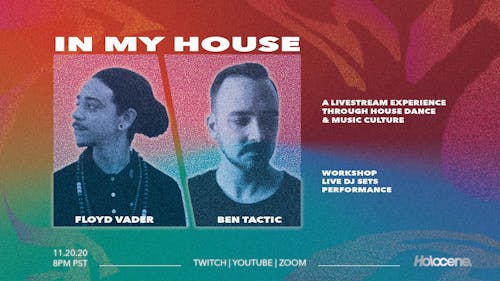 Join us for a live-streamed dance workshop, dance performance and DJ sets, exploring House dance + music culture!
SCHEDULE:
8-9pm: Educational dance workshop about House fundamentals from Floyd Vader (Decimus Yarbrough)
9-10pm: Dance performance by Floyd Vader (Decimus Yarbrough) and friends, with music by DJ Ben Tactic
10-11pm: DJ set by Floyd Vader while you dance at home!
STREAM INFO:
Streaming on our Twitch and YouTube channels:
Twitch: twitch.tv/holoceneportland
YouTube: https://bit.ly/YoutubeHolocenePortland
DONATION BASED TICKETS:
Suggested donation $15.
Donations encouraged and appreciated, with all donations split between the night's artists and Holocene staff. You can make a donation at this Eventbrite link in advance, or during the stream on one of the following channels:
Venmo: @holoceneportland
Cash App: $holoceneportland
PayPal contact@holocene.org
Venue Information: