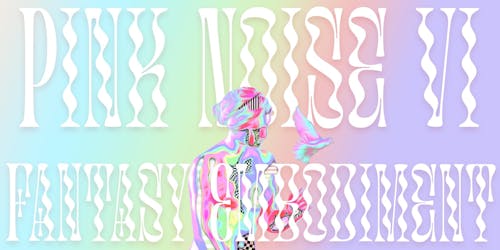 Presented by Holocene Portland, Northwest Film Forum and Pink Noise
PINK NOISE VI: FANTASY EMBODIMENT (Virtual Event)
$5.00 - $1000.00
On Eventbrite
Cast a digi-spell with us on the Spring Equinox! Pink Noise, Portland's #1 witchual glitchual ritual, is coming straight to your computer.
pink noise vi: fantasy embodiment
Co-presented by: Pink Noise, Holocene, Northwest Film Forum
Donation based tickets $5-$1000 , All proceeds go directly to the artists.
You will receive a link to our interactive zoom room after donating!
your favorite party of the year is back! Portland's #1 witchual glitchual ritual is bringing you some of the best talent on the West Coast straight to your computer. Cast a digi-spell with us on the Spring Equinox.
When you hear fantasy embodiment, what do you think? In some major ways, we've all gone through transmutations throughout the pandemic. We may have questioned, where did my body go? Where are all of the other bodies I used to be near? We may have hidden ourselves away, or put ourselves in painful, scary, yet, necessary situations. We may have longed for touch, more than our own touch. Our bodily interactions have mostly been mediated, through masks, screens, boundaries….even now… fantasy embodiment can be an escape from our bodies, from our realities. A time to fully embrace the absurd, come out of our cocoons, and show off our new transformations.
Tune in 7:00pm - 1am PST for performances, video art, and rituals from:
Alexis Rittenhouse
athing
Avola
Body Shame
brianna sas
Chloe Alexandra Thompson + aesthetic.stalemate
Clamber
Devin Jane Febbroriello
Edgar Fabián Frías
Gemini Moon
Gina Altamura
Hannah Piper Burns
Hex Appeal / Crystal Quartez / Dolphin Midwives
Jen Tam
Jenny Gräf
Jessie Rose Vala
JJ Stratford
Julia Oldham
Lazy Susan
Liz Miller Kovacs
Lo Fives
Mealz
~milk~
Nailah Hunter
Olio Lab
Pepper Pepper
PIECES
Polydactyl
sarahsarah turnerturner
Shana Palmer
Suzy Poling
Tiana Garoogian
Vivian Hua 華婷婷 x Rana San
Poster by Mealz (@themelia)
Pink Noise //
Founded in 2017, pink noise is a semi-annual art happening that brings together femme & femme identified experimental electronic musicians, video artists, witches, and art freaks to manifest the wildest performances Portland can imagine. Learn more at https://www.sarahsarahturnerturner.com/pink-noise.
NWFF ///
Northwest Film Forum incites public dialogue and creative action through collective cinematic experiences. A nonprofit film and arts center located in Seattle, Northwest Film Forum presents hundreds of films, festivals, community events, multidisciplinary performances, and public discussions each year. The Forum offers educational workshops and artist services for film and media makers at all stages of their development, including access to space, gear, fiscal sponsorship, and an edit lab. Learn more at nwfilmforum.org.
HOLOCENE ///
Holocene is a music + arts venue, nightclub and events space in the core of inner-SE Portland. Since the summer of 2003, Holocene has been hosting touring acts from folk to minimal techno, Portland's own most exciting musicians, unforgettable dance parties, and all manner of arts and multimedia parties that blur the line between highbrow and down-and-dirty. Learn more at holocene.org
Venue Information: