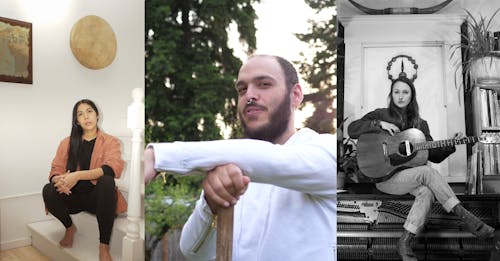 POSTPONED: VIRTUAL SHOW: Saroon (release) * Ezza Rose * Faustina Masigat
This live stream event has been postponed. Stay tuned for a new date this winter, to be announced soon. We hope everyone is staying safe!
Don't miss a lovely live-streamed show of local indie folk talents, including the album release party for Saroon!
ABOUT THE ARTISTS:
SAROON:
"Going in to record their latest collection of 'existential psychedelic soul music', Saroon had to get the tape ready. This is to say that every head-turning moment of their new album, Our Transparent Future, was recorded to tape. But the method of recording isn't the only unique part of this record. From vocal style to the overall highs and lows that it reaches, Saroon have crafted a unique record. Our Transparent Future makes its way to various corners of life, all which come together to form an idea for what the future may look like not only for the world, but for individuals. It remains hopeful while not shying away from the heartbreak and struggles that come with being human. Principle songwriter Ayal Alves explains: 'There's always the element of hope to it, and an acknowledgement that the nature of reality is that there is pain and suffering. The relationship between those two things is a transformational process.'" - Imperfect Fifth
EZZA ROSE:
"Her beautifully delicate, mournfully classic voice floats amongst the loosely bound, misty particles in the air and our minds and fills the cracks with a sound that's chilling and comforting, all at once." -Vortex Music Magazine
FAUSTINA MASIGAT:
Frustrated by academia and emotionally raw from a breakup, Faustina Masigat stepped away from her peers in her mid-twenties. She had come to realize that her personal and artistic maturation had been stifled by her relationships and her overly angular traditional musical schooling. She knew she needed to spend more time alone, committed to a process of unlearning, before she could move forward. As she peeled back the rigid layers of her youth, she began to write the songs that, a few years later, would make up her debut record. Seeking honesty over perfection, her approach to composition became much more intuitive; seated in the natural expression of not only her emotional life, but also that of a spiritual life, an expression of her own femininity, and a means of self improvement through self reflection. She became obsessed with the old, forgotten, second-hand guitars she would find in the "As Is" section of local music shops, believing that magic and songs still lived in the beat-up wood. One album track, "Willie Nelson", manifested, fully formed, from one of these guitars - an ancient, labeless individual that she called "Red".
The songwriting on her self-titled debut is all at once heartbreaking, intelligent, meditative and elegant - centered around a voice that is difficult to attach genre to. There is a quiet intensity running through the world that Faustina creates: sweet and heavy, a touch of angst, brutally honest, smoldering. The album is understated, arranged as to allow Faustina's effortless rapport with pedal steel player Tucker Jackson (The Minus 5, The Delines) to shine clearest. It's a spacious and lush debut, with all of her vulnerabilities laid bare in songs hemmed together with fragile intimacy.
ABOUT THE STREAM:
Stream starts at 8pm pacific time. Subscribe now!:
Twitch: twitch.tv/holoceneportland
YouTube: https://bit.ly/YoutubeHolocenePortland
DONATION BASED TICKETS:
Suggested donation $10.
Donations encouraged and appreciated, with all donations split between the night's artists and Holocene staff. You can make a donation at this Eventbrite link in advance, or during the stream on one of the following channels:
Venmo: @holoceneportland
Cash App: $holoceneportland
PayPal contact@holocene.org
Venue Information: