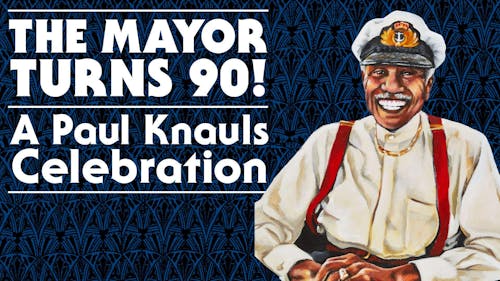 Presented by Albina Vision, Albina Music Trust and World Arts Foundation
THE MAYOR TURNS 90: A PAUL KNAULS CELEBRATION
Paul Knauls, Sr., affectionately known as "The Mayor of Albina," is turning 90! Help us celebrate him with a virtual storytelling event!
Paul Knauls, Sr. is turning 90 years old. Affectionately known as "The Mayor of Albina," Paul's legacy is difficult to sum up. An entrepreneur, raconteur, trailblazer, and soul music aficionado, this man continues to inspire and strengthen bonds in our community. Tonight's virtual storytelling event features public officials, musicians, and community members celebrating this great man on his 90th birthday.
This event will be live streaming virtually on the World Arts Foundation Facebook page, Albina Vision Youtube channel, and both the Worlds Art Foundation and Albina Vision websites, from 6:30-8pm pst on Friday Jan 22nd.
Donations are strongly encouraged to support the work of Albina Vision.
Venue Information: