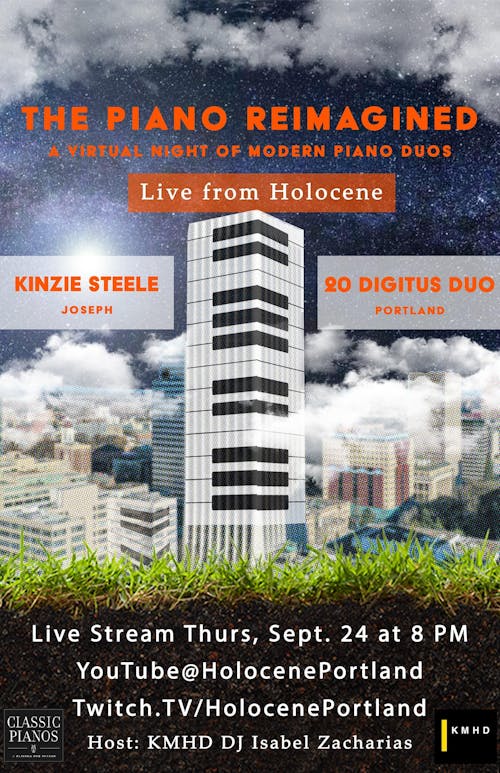 Presented by KMHD, Classic Pianos and Holocene
The Piano Reimagined: A Virtual Night of Modern Piano Duos
A night of modern piano duos, featuring 20 Digitus Duo and Kinzie Steele, live streaming on Holocene's Twitch and YouTube channels!
Thank you to Classic Pianos for their generous support of this event.
Tonight's event will be hosted by KMHD's Isabel Zacharias.
Stream will happen on our YouTube and Twitch accounts starting at 8pm.
Subscribe now!:
Youtube: https://bit.ly/YoutubeHolocenePortland
Twitch: https://www.twitch.tv/holoceneportland/
Donations are encouraged and appreciated, with all donations split between the artists and Holocene. Send a donation here on Eventbrite, or use one of the following methods:
Cash app: $holoceneportland
Venmo: @holoceneportland
PayPal: contact@holocene.org
ABOUT THE ARTISTS:
KINZIE STEELE
Joseph, OR
The contemporary duo Kinzie Steele, from the Wallowa Mountains of NE Oregon, started composing original works for the piano & drums in 2016. Seth Kinzie is a classical pianist and modern composer, and Andy Steele is an experimental/jazz drummer and gong percussionist. They bonded over their passion for expressive, visceral post-jazz and a desire to collaborate on a new genre of music within their rural community. Their performances are alternately contemplative and wild, involving a medley of Impressionist compositions & instrumental arrangements of rock and romantic music. "When I Was A Tree", the debut LP from Kinzie Steele, was released in 2018. It was engineered and mixed by Bart Budwig (John Craigie, Shook Twins) and produced by Ben Kirby (Sun Blood Stories) at a remote Oregon farmhouse with 27 goats and a llama. They were selected to play at the prestigious Treefort Music Fest in in 2019, to rave reviews from SSG Music ("Engrossing, engaging post-jazz compositions which will have jaws on the floor and tears in the eye") and Dæv Tremblay, Quebec ("A frank success"). Their album has been selected by Shum Derevyev Records from Siberia, translated as "Music for Trees & People", to be re-released in Russia in 2021 on special edition cassette tape.
Follow them on Instagram @kinziesteele and online (www.kinziesteele.com)
20 DIGITUS DUO
Portland, OR
Selected by Artslandia magazine as one of their top 50 artists in 2016, pianists María García and Momoko Muramatsu have had successful individual careers that have taken them around the world. Since their debut as a duo in 2014, 20 Digitus Duo has been hailed by the press as "Dynamite", "Intrepid" and "Impressive". They have appeared throughout Portland's top musical venues, as well as part of prestigious series such as COPI Piano International, SOMA Film Festival and St. Martin in the Fields (London, UK). Their debut album 4+1 has been hailed by the press as a "splendid and unusual debut". Together they explore the classical standards but also the vast repertoire of their shared Latin American musical heritage, and are deeply committed to working with living composers in creating new music for the genre. Their goal is to create exciting musical experiences that include classical/contemporary/rock audiences and offer an eclectic choice of music in collaboration with other art forms such as film, visual arts, poetry and dance. Recipients of a 2016 and 2020 RACC Project Grant stay tuned for their exciting new venture; Portland Piano Duo Festival coming in the summer of 2021.
Follow them on Instagram and Facebook @20digitusduo (www.20digitusduo.com)
Venue Information: